Alfa Laval P3 solid bowl centrifuges help eliminate many of the problems associated with tailings dam operations and filtration technologies. They are a proven and effective dewatering solution for slimes, clays and silts and other fine tailings. The special deep-pond design, the unique conveyor and the optimised cone angle enable you to treat volumes. The result is a spadeable cake that can be disposed of by co-disposal or dry stacking while the separated water can be recycled for reuse.
Built to last with highest throughput on the market
Able to dewater ultrafine material < 10 micron in continuous operation
Robust design (fully wear protected) for high reliability
No filter cloth, limited quantity of wash-water at shutdown
Low capital and installation cost
50-60 dry tonnes per hour capacity
Built to last Alfa Laval P3 decanter solid bowl centrifuges are constructed with carefully selected components such as Duplex stainless steel (SS316 and SAF2205). Heavy-duty bearings and a stiff box beam frame ensure a design fit for purpose, and all exposed interior parts are protected by replaceable tungsten carbide tiles. The smooth acceleration of solids in the feed and outlet zones helps minimise wear and results in an efficient separation process.
Get a quote or find out more about our solid bowl centrifuge trial unit
A centrifuge trial allows to you determine parameters such as:
Moisture in the cake
Centrate clarity
Determine scalable capacity
Detailed assessment how this technology can work in practice for your specific facility
Local After-Sales Support across Australia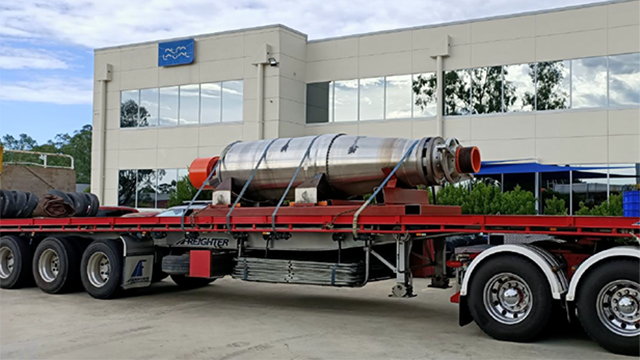 Alfa Laval's major service centre in Huntingwood, NSW offers major refurbishment of centrifuges, dynamic balancing of centrifuge bowls, centrifuge conveyor repairs & balancing, gearbox repairs & servicing, assembly, spare parts warehousing and many more specialist services by highly skilled engineers and technicians. Alfa Laval also has a large team of field service engineers around Australia for onsite support and repairs.
Bloomfield Group Rix's Creek
The Rix's Creek Coal Handling and Preparation Plant (CHPP), part of Australia's Bloomfield Group, set out to improve its onsite coal tailings management as part of its sustainability strategy. Tailings dewatering with Alfa Laval solid bowl centrifuges allows to reduce water and energy consumption and minimize the surface footprint of waste handling processes.
Why Alfa Laval
A reliable partner for the Mining and Mineral Processing Industry
Alfa Laval offers customers not only solid bowl centrifuges with very large capacity (up to 60 dry tonnes per hour) specifically designed for arduous duties in mining and mineral processing. The company prides itself on a strong local heritage of 95 years in Australia with a significant local service and support presence including Service Centres and field service engineers based around Australia to service even the most remote mining sites.
Swedish headquartered Alfa Laval is a leading global manufacturer offering its expertise, products, and service to a wide range of industries in some 100 countries. The company is committed to optimizing processes, creating responsible growth, and driving progress – always going the extra mile to support customers in achieving their business goals and sustainability targets.
Alfa Laval's innovative technologies are dedicated to purifying, refining, and reusing materials, promoting more responsible use of natural resources. They contribute to improved energy efficiency and heat recovery, better water treatment, and reduced emissions. Thereby, Alfa Laval is not only accelerating success for its customers, but also for people and the planet. Making the world better, every day.
From the coal face
How to manage tailings storage facilities (TSF) is an ongoing challenge for Australia's mining and minerals industry, from a risk mitigation and cost point of view. Alfa Laval Australia engineer and mining account manager, Harvey Foroush, explains how solid bowl centrifuge technology has evolved over time to provide an economically and technologically superior solution to dewater tailings and recover process water.