Inline carbonation saves Grifter Brewing half a day per tank
The centrifuge is an essential piece of brewing equipment, delivering flexibility, control and consistency for craft brewers in Australia and around the world. Now, inline carbonation is on everyone's mind as breweries are seeking further efficiencies in the production process.
DATE
2023-11-27
We speak with Glenn Wignall, Founder and Director of Grifter Brewing Co about Grifter's story and approach, the trends he's seeing in the market and his first-hand experience with the new Alfa Laval Procarb BREW 250 for inline carbonation.
When and how did Grifter Brewing's journey start?
Myself and the other two founders Trent and Matt were homebrewing together a lot around 2010 when by chance we met the founders of Young Henrys at a beer club in Glebe. They were in the middle of setting up their brewery in Newtown and we were lucky enough to be invited to do some contract brewing there right after they opened in 2012.
From brewing 24hL batches on the weekends we established our brand and a couple of years later ended up buying their original brewhouse and installed it in our current home in Marrickville. We've since upgraded also and went from being the second brewery in Marrickville to now one of seven in the suburb alone.
What makes your brewery and beers stand out?
Being one of the earlier breweries in Sydney I think we've established a reputation for honest, good quality beer and service. We love our classic styles but also like to play around with new and unconventional ingredients to keep ourselves and customers interested. But with that in mind, the traditional qualities of the beer and its core ingredients are always kept at the forefront of the drinking experience.
What are some of the major trends in beer consumption that you're seeing in your area?
Amongst all the buzz around non-alcoholic and low carb beers in the mainstream, I think there's a new interest in lager coming from the craft beer sector. Lager was somewhat frowned upon in those circles for years, but I think people are starting to appreciate the notion of less is more. And coming from a production perspective, they are some of the hardest styles of beer to make well.
How important is the centrifuge for your operations?
Being busier than ever, the centrifuge has become a very important piece of equipment in our brewery. It allows us a level of flexibility within our production that I believe is unmatched by anything else, all while increasing the quality and consistency of our beer.
Why is inline carbonation so important?
Predominantly due to the sheer amount of time that it saves. Wherever we are in terms of cold conditioning, we can safely say that we can have bright, carbonated beer within the hour, ready for packaging.
How much time does the carbonation feature save you?
I'd say around half a day on any given tank, which is often the difference between whether something can be packaged that day or not.
What are other benefits?
Obviously having the flexibility to turn tanks around faster means we are now getting more out of each fermenter than ever before. Being in the inner west of Sydney, space is a premium so having a centrifuge is a game-changer in terms of saving floor space and maximising your cellar.
In terms of the specific model, a leading factor for us to go with Alfa Laval, and specifically the BREW 250, was the hermetically sealed design. Dissolved oxygen pickup when processing our beer is next to nothing and being able to achieve those results without the need for deaerated water is a huge bonus.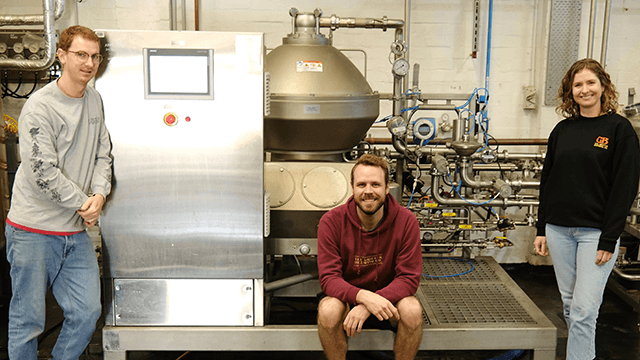 From left: Glenn Wignall, Founder/Director, Nick Batley, Lead Brewer and Karli Small, Head Brewer/Production Manager with the Alfa Laval Procarb BREW 250+
How important is it to have local support for your equipment?
For us, it was extremely important. For the more technical machinery in the brewery, we tend to only work with suppliers who can offer local support and from experience, we find it is the best way to learn how to operate and maintain your equipment. Having neighbours in the area running the same equipment is also beneficial as there's a growing knowledge base within the local brewing community to lean on.
What are your top tips for other craft brewers?
Always try to think ahead. What might work for you today, may not be sufficient in a year's time. If you can plan ahead, and choose equipment that will help you grow and maintain quality, it is always going to be worth it in the long run.
At a glance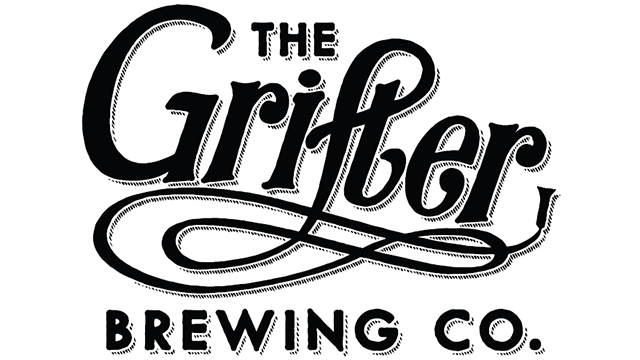 Combine flexibility of centrifuge with inline carbonation
Turn around tanks faster
Go straight from cold conditioning to packaging
Choose suppliers with local support
Always try to think ahead. What might work for you today, may not be sufficient in a year's time. If you can plan ahead, and choose equipment that will help you grow and maintain quality, it is always going to be worth it in the long run.
- Glenn Wignall, Founder & Director, Grifter Brewing Co
Local service and support for your centrifuge / high speed separator
Whether your application requires solids removal, clarifying, purifying, or polishing – continuous, high-speed centrifugal separation is a demanding process. Alfa Laval's renown commitment and presence for After-Service in Australia includes a major service centre located in Sydney and highly skilled field service technicians providing commissioning and repairs onsite, even in the most remote locations.