The Alfa Laval CBAQ brazed plate heat exchangers are aimed at HVAC applications. The range is AHRI Certified® through the Liquid to Liquid Brazed & Fusion-bonded Plate Heat Exchangers (LLBF) Certification Program to ensure the thermal performance. The heat exchangers are used in applications such as potable water heating and free cooling systems.
Reduces lifetime operating costs significantly by assuring a more energy-efficient system
Ensures full investment value by reducing costs for field tests and additional component performance margins
Ensures that targets on power consumption and climate control can be met
Protects the owner and consulting engineer from performance concerns during commissioning and after installation
Ensures that all certified plate heat exchangers included in proposals will deliver the stated thermal performance
Reduces troubleshooting time during commissioning and after start-up
The CBAQ range of brazed plate heat exchangers has numerous advantages over traditional heat exchangers HVAC installations. The exceptional heat transfer efficiency makes all CBAQ units very compact. As a result, they can tackle large-capacity duties even though there is only limited installation space available. Easy to install and maintain, the Alfa Laval CBAQ products help you meet sustainability and energy savings targets in a range of heating and cooling duties with a small footprint.
The brazed construction does away with gaskets, making CBAQ units ideal in applications where temperatures and/or pressures are high. Examples include a wide range of heating, cooling and tap water solutions.
Units in the CBAQ range are available in many different sizes and capacities, including the CB20AQ, CB60AQ, CB110AQ, CB112AQ, CB 200AQ, CB300AQ and CB400AQ. Please contact Alfa Laval Australia for further information on pricing and sizing or visit our new Web Shop.
Sustainability benefits
Alfa Laval CBAQ series does not only help you save energy and reduce environmental impact, we also endeavour to perform our own operations as cleanly and efficiently as possible, and to take environmental aspects into consideration when developing, designing, manufacturing, servicing and marketing its products. It does this by identifying the significant environmental impacts of its products and operations and taking appropriate measures to reduce them. This work is supported by implementing environmental management systems (normally certified to ISO 14001) in all its manufacturing operations.
Featured product: CB60AQ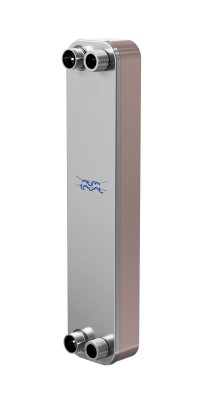 The Alfa Laval CB 60 AQ provides efficient heat transfer with a small footprint. Using advanced design technologies and extensive verification guarantees the highest performance and longest possible service life.
Different pressure ratings are available for different needs.
The unit can be supplied with a refrigerant distribution system for optimal evaporator performance.


Download product leaflet
New heat exchanger webshop
Alfa Laval is proud to introduce online shopping for brazed plate heat exchangers in Australia. Size and buy the right product for your cooling and heating applications online. Free express shipping. Live chat with Alfa Laval engineers.
For HVAC applications, we also offer AHRI-performance-certified heat exchangers
The Alfa Laval AlfaQ range is certified according to the AHRI Liquid-to-Liquid Heat Exchangers (LLHE) Certification program, which ensures thermal performance according to manufacturers' published specifications. Alfa Laval's next-generation features are also available for relevant sizes and configurations of models in the AlfaQ range.