From freezing and cold chain to cold storage cooling in industrial premises, Alfa Laval has the latest, energy-efficient solutions. For the food industry, we offer highly efficient plate heat exchangers for reliable cooling results and energy savings. Applications range from cooling in abattoirs, fish and meat processing areas, to climate control in storage rooms for fresh food freezing, preparation and sales.
Industrial semi-welded range for higher demand on temperature, pressure and media
Alfa Laval Industrial semi-welded line is used when gaskets are not suitable for one of the process media. Also, the semi-welded line can take a higher design pressure compared to fully gasketed plate-and-frame heat exchangers. This includes cascade duties with natural refrigerants such as R744 and R717.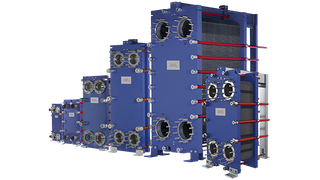 Tackling the ammonia challenge
U-Turn is a liquid separator especially designed for use with plate heat exchangers in ammonia applications. The module – including the separator and plate heat exchanger ensures minimum pressure drop losses and maximum energy efficiency.
Webinar on-demand: Learn how to design your heat exchanger for new refrigerants
The shift to low Global Warming Potential (GWP) refrigerants is gaining momentum globally. Join this webinar to upskill yourself on the design requirements for GWP refrigerants - to build systems that are energy-efficient, durable and compliant, even under the highest pressure.
Local service and support for your plate heat exchanger
You can trust Alfa Laval technicians to repair and recondition your plate heat exchangers – no matter the brand. We've serviced equipment for over 90 years in Australia with two of our local service centres outfitted with the equipment and expertise to optimize the performance and life time of your plate heat exchangers.
Live chat with our heat exchanger experts
Looking for the right heat exchanger can be a complex task. Live chat with our local engineers to get expert advice on the best technology for your applications, as well as sizing and pricing information. Simply click on the blue chat icon at the bottom right corner of the page to contact our agents. Available Monday to Friday. We look forward to hearing from you!