Alfa Laval provides energy-saving heating solutions for the requirements of apartments, houses, commercial premises, industrial facilities or public buildings. Our aim is to optimise conditions; from comfortably warm indoor environments and pleasant swimming pool water temperatures to domestic hot water on tap.
Using energy the smart way
Our solutions promote the smart use of energy, whatever the source of the hot water. For instance, during the summer when a building's heating system is not used to full capacity, excess capacity can be used for heating outdoor swimming pools. Using heat recovery, during manufacturing and other processes, for heating buildings is another energy-saving measure that reduces costs.
Using energy from renewable sources
Alfa Laval is committed to integrating renewable energy sources whenever possible in its energy-saving heating solutions. Energy from recycling or renewable energy, such as geothermal or solar energy, can often be used as an alternative or supplemental energy source in heating systems.
Navigating a changing refrigerants market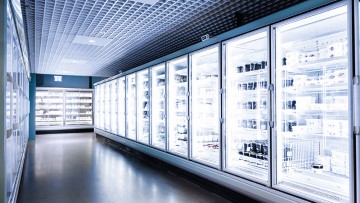 A massive change is currently underway in the refrigerant market. Driven by environmental concerns, legislation is pushing a gradual phasing out of traditional refrigerants in favour of low GWP refrigerants to address climate change and global warming. The impact of these new rules will dramatically alter the way heating and cooling applications are performed in a wide range of industries over the coming years. Businesses, where these applications are central, are thus facing a major question: Which refrigerant makes the best sense for my HVAC duty?
Download the whitepaper
Featured products
Gasketed Plate and Frame Heat Exchangers
Alfa Laval gasketed plate heat exchangers are the most cost-effective solution for a wide range of HVAC heating and cooling applications. Our Industrial range of gasketed plate heat exchangers is the result of decades of experience, research and development in heat transfer technology. By combining innovative design with high quality we guarantee maximum performance with minimum operating costs.
Brazed Plate Heat Exchangers
Alfa Laval copper-brazed plate heat exchangers are a compact, efficient and maintenance-free solution for heating, cooling, evaporation and condensing in numerous applications. Each unit is designed for duty optimization, with a range of unique features that ensure both superior thermal performance and maximum reliability. This enables the longest possible service life – even under conditions with extremely high design pressures.
Local service and support for your plate heat exchanger
You can trust Alfa Laval technicians to repair and recondition your plate heat exchangers – no matter the brand. We've serviced equipment for over 90 years in Australia with two of our local service centres outfitted with the equipment and expertise to optimize the performance and life time of your plate heat exchangers.
New heat exchanger webshop
Alfa Laval is proud to introduce online shopping for brazed plate heat exchangers in Australia. Size and buy the right product for your cooling and heating applications online. Free express shipping. Live chat with Alfa Laval engineers.
Consultant? System integrator?
Are you a consultant? Look here! With expertise from decades of experience in heat exchange, Alfa Laval offers knowledgeable resources for today's heating and cooling challenges. Discover answers to complex questions on everything from energy efficiency to natural refrigerants, along with helpful tools that make it simpler to find the right technology for your application.
Live chat with our heat exchanger experts
Looking for the right heat exchanger can be a complex task. Live chat with our local engineers to get expert advice on the best technology for your applications, as well as sizing and pricing information. Simply click on the blue chat icon at the bottom right corner of the page to contact our agents. Available Monday to Friday. We look forward to hearing from you!