Brazed plate heat exchangers
Alfa Laval copper-brazed plate heat exchangers are a compact, efficient and maintenance-free solution for heating, cooling, evaporation and condensing in numerous applications. Each unit is designed for duty optimization, with a range of unique features that ensure both superior thermal performance and maximum reliability. This enables the longest possible service life – even under conditions with extremely high design pressures.
Buy best in class to ensure superior performance and longevity
Lightweight brazed construction offers much greater thermal efficiency than comparable shell-and-tubes with a footprint that's 75% smaller
The flexible DynaStatic distribution system in AC models enables higher efficiency in any evaporator duty and with any refrigerant
High quality reflected by 3-year performance guarantee
An ideal solution for use with natural refrigerants, thanks to the compact footprint, optimized plate design and high design pressure
Select, configure and buy online
With a robust and reliable construction, Alfa Laval's comprehensive range of brazed plate technology offers a smart alternative to traditional heat exchangers. The application experience of Alfa Laval's heating and cooling experts, combined with our continuous innovation in design and manufacturing techniques, ensures you always have access to the most competitive solution available. Example positions for our brazed heat exchangers include air conditioning and process chillers, commercial and industrial refrigeration, district heating and domestic hot water, heat pumps, gas boilers, energy storage, fuel cells, oil and fuel cooling, hydraulics, engine cooling, air compressors, and air driers.
What is a brazed plate heat exchanger
A brazed plate heat exchanger is a type of plate heat exchanger used to transfer heat between two liquids. Brazed plate heat exchangers are significantly smaller than gasketed plate heat exchangers. As the plates connect directly, the brazing technology eliminates the need for seals and thick frame plates. Often brazed plate heat exchangers are covered in a copper film, making them ideally suited for HVAC and refrigeration duties due to the copper's high thermal conductivity, resistance to atmospheric and water corrosion, sealing and joining by soldering, and mechanical strength.
One of the differentiators for Alfa Laval as a brazed plate heat exchanger manufacturer is its patented asymmetrical plate design. The unique design feature translates to higher thermal efficiency and lower energy consumption, thanks to optimized pressure drop and increased turbulence.
New heat exchanger webshop
Alfa Laval is proud to introduce online shopping for brazed plate heat exchangers in Australia. Size and buy the right product for your cooling and heating applications online. Free express shipping. Live chat with Alfa Laval engineers.
How brazed plate heat exchangers are made
Instead of using gaskets to hold together plates, brazed plate heat exchangers are manufactured in a way that the contact surface melts and connects the stainless steel plates while the heat will be transferred via the melting points. Plates are cut from coil and pressed to shape. The copper foil is cut from coil and formed to fit the plates. The copper film covering the brazed plate heat exchangers can be designed in many different ways to optimize for various applications and duties. The basic BHE design – refined over the years by leading manufacturers like Alfa Laval – offers excellent resistance to pressure and thermal fatigue in a wide range of heating and cooling applications. Plates and foils are stacked to form the plate pack. The plate pack is fitted with frame plates and connections.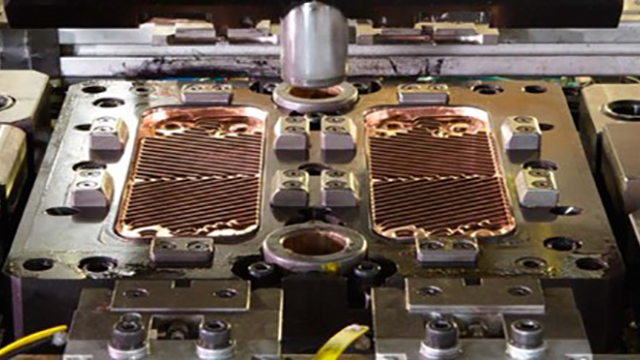 The heat transfer plates and brazing sheets are pressed and the port holes are punched. The copper sheet is put on top of the metal plate, plates are stacked to form the plate pack connections and the unit is prepared for brazing.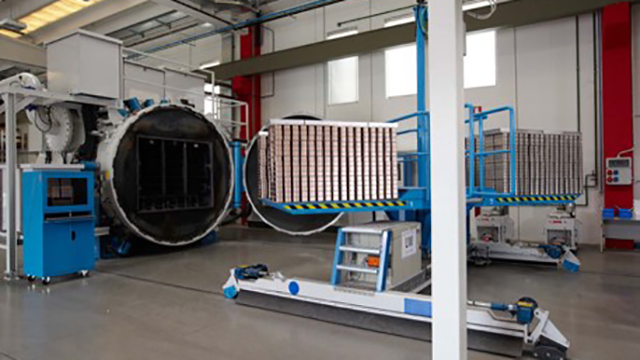 The unit is assembled through brazing in a vacuum furnace at high temperature. The brazing material melts and collects in the contact points. When the unit is cooled down there is a strong bond in every contact point, which makes the unit very strong.
How to size brazed plate heat exchanger
Alfa Laval brazed plate heat exchangers can be configured as one-, two- or multi-pass versions with a wide range of connection designs and locations. Selecting the correct plate patterns for each plate size means optimal function for any application. Every brazed heat exchanger has a name, the name tells us information about the heat exchanger. The name is constructed as follows:
Product family, Pressure, Capacity, Number of plates, Channel type
Example: CB30-14H: CB = product family, Standard pressure = no letter, 30 = Capacity, 14 = Number of plates, H = Channel type
Alfa Laval's product range of brazed plate heat exchangers covers temperatures of maximum 225 degree Celsius. The max design pressure is as follows. Note that maximum design temperature and maximum design pressure are dependent on each other.
Standard range up to 40 bar
H range up to 54 bar
XP range up to 90 bar
Alfa Laval's range includes all sizes, NTU and ports ranging from 15 mm to 120 mm different channel plates, asymmetric plates and different pressure range to secure we have a perfect fit for all kind of duties.
All Alfa Laval brazed plate heat exchangers can be offered with different connections to make the installation at the customer site easy. When Alfa Laval releases new models we secure that the c-c measurements between the connections are the same for the new models as the old to secure easy upgrade to the new model. You find manuals and 3D drawings for Alfa Laval heat exchangers on the Productguide.
Alfa Laval AC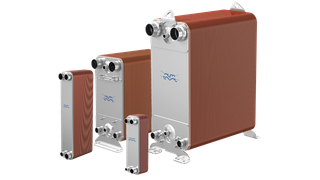 Built with Alfa Laval's flexible DynaStatic distribution system, which our experts optimize according to your specific application and choice of refrigerant, our AC line of heat exchangers offers top thermal performance in evaporation duties. Combined with the unique FlexFlow asymmetric channel plates, you get the maximum possible efficiency for your system. View products
Alfa Laval CB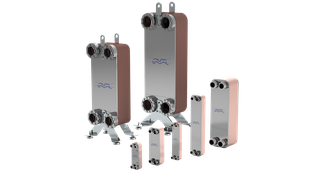 The Alfa Laval CB range of copper brazed plate heat exchangers feature efficient heat transfer with an extremely small footprint, making them ideal for demanding installations where space is at a premium. The CB range is used in HVAC heating/cooling, air conditioning, refrigeration, process heating/cooling, oil cooling, solar heating and many other applications. View products
Live chat with our heat exchanger experts
Looking for the right heat exchanger can be a complex task. Live chat with our local engineers to get expert advice on the best technology for your applications, as well as sizing and pricing information. Simply click on the blue chat icon at the bottom right corner of the page to contact our agents. Available Monday to Friday. We look forward to hearing from you!
Brazed plate heat exchanger installation
The unit type, manufacturing number and year along with the pressure vessel details in accordance with applicable pressure vessel code can be found on the name plate. The name plate is fixed to the cover plate (usually on the same side as the connections). Name plate differs depending on the type of pressure vessel approval.
Plate heat exchangers with large plate packs may be difficult to lift without lifting lugs because the centre of gravity may cause the plate heat exchanger lean too much. If in doubt, use lifting lugs.
The piping must be well supported so that no loads are transferred to the heat exchanger during operation.
The installation must be installed with equipment that protects it against pressures and temperatures outside the approved minimum and maximum values shown on the name plate.
Normally the plate heat exchanger is connected so that the media flows through the plate heat exchanger in opposite directions (in counter-current flow) and in most cases this provides the best heat transfer performance.
In applications where a phase change of media occurs, the heat exchanger must be installed vertically.
The heat exchanger could be of single or dual circuit type. Flow direction of a single circuit heat exchanger is normally parallel, while on dual circuit heat exchanger could be diagonal or parallel. Make sure that the heat exchanger is installed correctly according to the current flow direction for the heat exchanger. For detailed information about flow direction see the name plate.
It is recommended to mount the plate heat exchanger on the floor, on feet or on the wall. Alfa Laval offers a wide range of accessories to secure easy installation at customer site such as feet and floor support kits.
Why Alfa Laval
Alfa Laval has the largest installed base of any brazed heat exchanger manufacturer in the world. With more than 80 years of experience in heat transfer innovation, Alfa Laval knows what it takes to deliver high-performance solutions for any application. Designed in Sweden with a commitment to product innovation, quality and engineering excellence, Alfa Laval heat exchangers provide efficient heat transfer with minimal fouling in compact equipment with a small footprint.
Buy from market leader to ensure superior performance and longevity
High quality reflected by 3-year performance guarantee
All heat exchangers individually pressure and leak tested
Reduce energy bills and carbon footprint with energy saving technology
Buy online with a credit card in the Alfa Laval Web Shop with Live Chat and same day dispatch
Join the community at the Alfa Laval Heating & Cooling Hub for product and application expertise
Proven energy efficiencies and sustainability benefits

PressureSecure
Unparalleled strength for demanding duties
Our innovative plate designs support the widest range of high-temperature and high-pressure applications. Units can run using thinner plates and fewer plates, which translates to less raw material, lower energy consumption, reduced refrigerant charge and a longer equipment lifecycle.

ValuePlus
Total support – with value-adding options to fit your needs
Get access to a wide range of tools as well as Alfa Laval's application and product experts. ValuePlus support includes all documentation, approvals and certifications in addition to an ever-expanding range of accessories. Thanks to Alfa Laval's prototyping and testing expertise as well as our large-scale manufacturing capabilities, you can always expect fast delivery, easy installation and optimization, and full compliance with any regulations.

REFuture
A future-proof investment for tomorrow's refrigerants
As an innovative driver in the development of solutions for natural refrigerants, Alfa Laval brings years of experience working with products that enable the use of new-generation and low-GWP refrigerants to help you meet sustainability goals and any legislative requirements.

DynaStatic
Flexible refrigerant distribution
This breakthrough production method lets you fully tailor the placement, size and number of inlets to fit your specific application, ensuring the optimal refrigerant distribution system for your products. The result is higher efficiency with the flexibility to use low-GWP refrigerants.

FlexFlow™
Superior thermal performance
Alfa Laval's patented asymmetrical plate design is one of many unique innovations that gives you improved thermal efficiency thanks to optimized pressure drop and increased turbulence. In addition to cutting energy consumption, that means reducing refrigerant volumes and raw materials.

IceSafe
Controlled, non-destructive freezing
For applications that require it, we can supply plate heat exchangers designed to allow ice crystals to form under certain operating conditions, but displaced from sensitive areas. This ensures both reliable performance and a long product life.
Consultant? System integrator?
Are you a consultant? Look here! With expertise from decades of experience in heat exchange, Alfa Laval offers knowledgeable resources for today's heating and cooling challenges. Discover answers to complex questions on everything from energy efficiency to natural refrigerants, along with helpful tools that make it simpler to find the right technology for your application.
Live chat with our heat exchanger experts
Looking for the right heat exchanger can be a complex task. Live chat with our local engineers to get expert advice on the best technology for your applications, as well as sizing and pricing information. Simply click on the blue chat icon at the bottom right corner of the page to contact our agents. Available Monday to Friday. We look forward to hearing from you!