Air conditioning and heat pump solutions
As summers are getting warmer and our cities are growing, maintaining a pleasant indoor temperature is critical for well-being and productivity. High rises, office buildings, shopping malls and many other residential and commercial buildings are cooled with Alfa Laval heat exchangers. Each solution could involve different types of refrigerants, configurations and air-conditioning equipment. Minimizing environmental impact is important with the most energy-efficient technology.
What is a heat exchanger for air-conditioning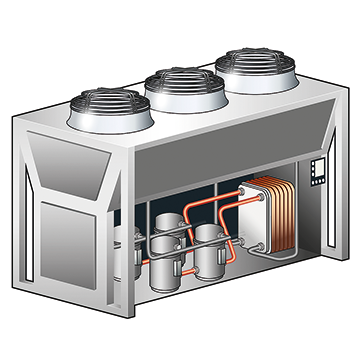 Air conditioning systems contain at least two heat exchangers, usually called the condenser and the evaporator. The plate heat exchangers indirectly connect chillers, boilers and cooling towers to central plant systems. Plate heat exchangers also reduce the cooling load on the chillers when used in economiser circuits and heat recovery circuits. Choosing the correctly sized and configured plate heat exchanger for your system has a direct impact on performance and energy savings.
What is a heat exchanger for heat pumps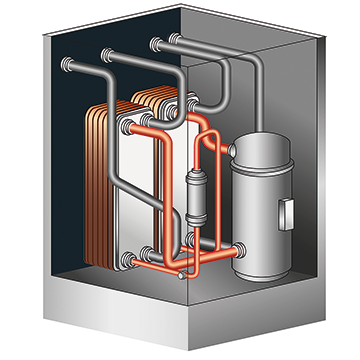 Heat pumps are growing in popularity in Australia, in both residential and commercial buildings. Heat exchangers can be used as condenser, evaporator or economiser in a heat pump system.
As with all modern heating and cooling systems, the aim is maximum efficiency. In a heat pump, this is achieved by ensuring the closest possible temperature approach between the evaporator and the condenser. Optimizing the heat exchangers for the customer's specific systems is therefore critical.
New heat exchanger webshop
Alfa Laval is proud to introduce online shopping for brazed plate heat exchangers in Australia. Size and buy the right product for your cooling and heating applications online. Free express shipping. Live chat with Alfa Laval engineers.
Gasketed Plate and Frame Heat Exchangers
Alfa Laval gasketed plate heat exchangers are the most cost-effective solution for a wide range of HVAC heating and cooling applications. Our Industrial range of gasketed plate heat exchangers is the result of decades of experience, research and development in heat transfer technology. By combining innovative design with high quality we guarantee maximum performance with minimum operating costs.
Brazed Plate Heat Exchangers
Alfa Laval copper-brazed plate heat exchangers are a compact, efficient and maintenance-free solution for heating, cooling, evaporation and condensing in numerous applications. Each unit is designed for duty optimization, with a range of unique features that ensure both superior thermal performance and maximum reliability. This enables the longest possible service life – even under conditions with extremely high design pressures.
The hidden cost of non-certified plate heat exchangers in your cooling plant
HVAC systems typically account for as much as 30% of energy use and costs in commercial buildings and office spaces. Plate heat exchangers are a key equipment component to save energy and improve a building's sustainability and carbon footprint.
Chiller evaporator
Due to an undersurfaced plate heat exchanger, if the fan coils received 1°C higher cooling temperature, the chiller evaporation temperature will be lower, causing a higher lift.
3.5% higher chiller energy consumption
Chiller condenser
Due to an undersurfaced plate heat exchanger, if the chiller condenser receives 1°C higher cooling source, the condensation temperature will increase, causing a higher lift.
1.5% higher chiller energy consumption
For HVAC applications, we also offer AHRI-performance-certified heat exchangers
The Alfa Laval AlfaQ range is certified according to the AHRI Liquid-to-Liquid Heat Exchangers (LLHE) Certification program, which ensures thermal performance according to manufacturers' published specifications. Alfa Laval's next-generation features are also available for relevant sizes and configurations of models in the AlfaQ range.
Live chat with our heat exchanger experts
Looking for the right heat exchanger can be a complex task. Live chat with our local engineers to get expert advice on the best technology for your applications, as well as sizing and pricing information. Simply click on the blue chat icon at the bottom right corner of the page to contact our agents. Available Monday to Friday. We look forward to hearing from you!