Industrial coolants are used widely throughout the metalworking and manufacturing industry. Minimise coolant disposal costs with the Alfie coolant treatment. Removing tramp oil and other contaminants such as fine metal shavings also protects expensive cutting tools in CNC machines and improves product quality in precision engineering.
Reduce waste and disposal cost with the Alfie coolant treatment
Reduced tool wear, fewer rejects, and overall improvement in quality
Cleaning can proceed both during production and when the equipment is idle
Eliminate odour from bacterial growth
Reduce risk of allergic reactions
Environmental and sustainability benefits
The Alfa Laval Alfie coolant cleaners are a proven way to use your coolant at least 3-5 times longer. This dramatically reduces the volume of waste coolant to be sent to disposal and waste management facilities.
We expect a rapid Return on Investment from savings on disposal cost. This is in addition to savings on cutting tools and seeing happier employees.
Jon Sharpe, General Manager at Sharpe Engineering, Brisbane
Get a quick quote
Contact Alfa Laval Australia for pricing information and to speak to one of our sales engineers for more technical details.
Meet the Alfie range of centrifugal separators for coolant treatment
The Alfie range of compact high-speed centrifugal separators makes it easy to significantly reduce all such costs by keeping coolants clean, and do so in the most cost-effective way possible. Alfie units can be linked to a bypass flow, ensuring less downtime for service. In addition, fewer man-hours are required for maintaining service fluids. An Alfie separator plays a key role in ensuring longer tool service life and cleaner components, thus improving end-product quality.
Alfie 500
The Alfie 500 is a compact, wheeled separator system that the operator can move from one tank to another. The PLC-based control system is easy to use, and special couplings make it easy to connect and disconnect the hoses quickly when moving the cleaning unit around.
You might also be interested in
AlfaPure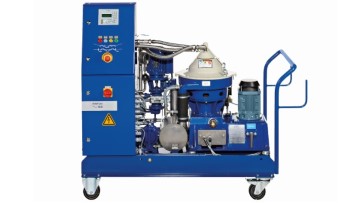 For larger tanks and capacity, consider the AlfaPure range of centrifugal separators.
Compare the 4 most common cleaning methods for cutting fluids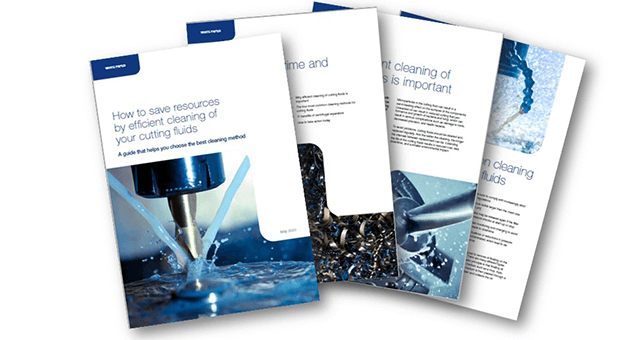 Learn how the four most common cutting fluid cleaning methods - filters, skimmers, coalescence and centrifugation - compare to determine the most efficient cutting fluid treatment for your application.
Customer success
Sharpe Engineering discovers a smarter way to clean coolants
Sharpe Engineering is an Australian, family owned company based in Queensland that provides quality driven engineering and manufacturing solutions since 1995. Coolant disposal cost were rising substantially due to business expansion. The company investigated the Alfie 500 and found that it's a superior and extremely cost-effective way to prolong the use of its coolants.
The time-tested principles of the centrifugal separator effectively remove contaminants from coolants. The coolant is pumped up from the tank and centrifuged in the separator bowl at speeds of 6,000–10,000 rpm. Centrifugal force pushes the solid particles out to the periphery of the disc stack. There they become trapped on the inner surface of the separator bowl, while the lighter oil is forced toward the centre, where it can then be drawn off. Unlike filters, skimmers, and lamella separators, a centrifugal separator efficiently removes both tramp oil and particles. Due to its high rotation speed, the centrifugal separator cleans up to 10,000 times more effectively than equipment based on gravity alone. Since the centrifugal separator is installed in a bypass flow, cleaning can proceed both during production and when the equipment is idle.
Coolant treatment FAQ
Coolants are widely used in metal working and CNC (Computer Numerical Control) cutting processes to reduce friction, prevent corrosion and remove fine metal shavings.
What is coolant treatment?
The unique chemical composition of coolant emulsions – together with a shift towards more environmentally friendly water-based products – makes it prone to contamination and degradation. Coolant that is not cleaned becomes progressively more contaminated to the point where total replacement becomes necessary.
Disposal of used coolants is costly due to strict environmental regulation and is normally handled by specialised waste management companies in Australia.
Filtration is one way of coolant treatment for removal of tramp oil and metal shavings. However cloth filters are fiddly to use and themselves present a disposal problem.
Centrifugation which works with G-force to achieve solid-liquid separation presents a faster and more efficient way for coolant treatment between processes and even during production. Continuous cleaning with a centrifuge extends the life of your coolants and, with top-ups, it can last as long as 10 years!
Why is my coolant collection tank so smelly?
The oil that leaks out during machining is flushed away by the coolant and ends up in the tank. There it sits like a lid on the surface of the coolant, creating ideal conditions for the growth of anaerobic bacteria – bacteria that do not require oxygen. The unpleasant odour that sometimes develops in engineering workshops results from the hydrogen sulphide gas that's formed when these bacteria have been allowed to multiply freely in the tank.
This problem is eliminated by a centrifugal separator, since the tramp oil is drawn off and pumped into a collection tank. Some people develop allergies or skin problems when they come into contact with various types of oils, which means that the separator's ability to remove tramp oil can lead to significantly improved health for machine operators.
How do coolant contamination and tramp oil affect tool wear?
Metalworking and CNC machine cutting and drilling tools are expensive. The fine metal shavings that accumulate in the coolant can damage the tools over time. Tramp oil on tools and the components being processed usually decreases processing precision and can also cause problems in later stages of production, such as painting.
The centrifugal separator effectively removes even fine metal shavings and particles (down to 1 μm) from the coolant, resulting in reduced tool wear, fewer rejects, and an overall improvement in quality. Since the coolant is kept clean, tramp oil and particles cannot adhere to surfaces. This simplifies clean-up and, more importantly, produces better quality results.
Compare the 4 most common cleaning methods for cutting fluids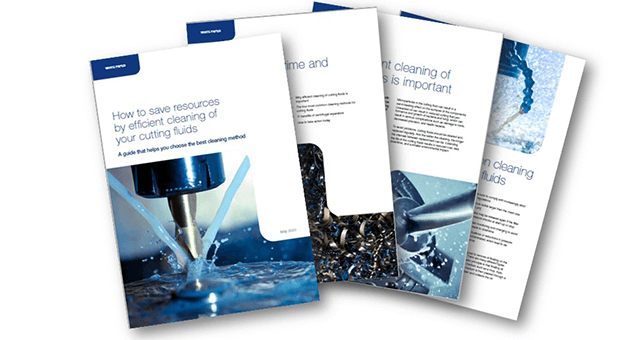 Learn how the four most common cutting fluid cleaning methods - filters, skimmers, coalescence and centrifugation - compare to determine the most efficient cutting fluid treatment for your application.
The Separator Innovator
Would you like to know more about our innovations in separation technology? Alfa Laval invented the first disc stack separator and has led the way in the development of centrifuge technology for over a century. We are glad to share with you the expertise we have gained along the way. Visit our Separator Innovator knowledge base to learn more about advancements in separation and the steps Alfa Laval is taking to continue revolutionizing the technology.