Industrial semi-welded line
Alfa Laval Industrial semi-welded heat exchanger line is used when gaskets are not suitable for one of the process media. Also, the semi-welded line can take a higher design pressure compared to fully gasketed plate-and-frame heat exchangers.
Alfa Laval Industrial Semi-Welded with unique sealing system
Alfa Laval Industrial semi-welded line handles most refrigerants and is particularly suitable for applications involving ammonia. Semi-welded heat exchangers are used in both organic and inorganic chemical processing when the chemicals involved limit the selection of gaskets that can be used or when the required design pressure makes fully gasketed plate-and-frame heat exchangers insufficient.
The media passes through the welded channel facing the ring gasket sealing between the laser welded cassettes. Alfa Laval semi-welded heat exchangers employ the Alfa Laval RefTight™, a unique sealing system which guarantees high performance by positioning the laser weld on the outside of the ring gasket groove. The smooth ring gasket grove ensures equal sealing force over the entire porthole gasket.
Equipped with well-designed features, Alfa Laval Industrial semi-welded line of heat exchangers are easy to maintain and have a long service life. Some of the features available include:
ClipGrip™ gasket – a glue free gasket with superior alignment that ensures a perfect seal and trouble-free maintenance.
Alfa Laval RefTight™ – a unique gasket groove design with maximum gasket support and minimum gasket contact.
CurveFlow™ distribution area – ensures full use of the heat transfer area and minimizes fouling.
Benefits of the RefTight sealing system explained
Benefits
High energy efficiency
Flexible configuration
Easy to install
High serviceability
Access to Alfa Laval's global service network
Featured product
Don't crack under pressure - meet the new T10-EW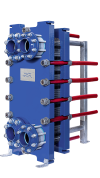 Businesses with high-pressure heating or cooling demands have long been forced to rely on low-efficiency shell-and-tube heat exchangers or fully welded technologies that can crack after repeated stress cycles. But all that is about to change.
Thanks to groundbreaking innovations, Alfa Laval has developed a new generation of semi-welded heat exchangers that provide reliably high thermal performance even in the most demanding applications.
Alfa Laval's flexible semi-welded cassettes also offer improved fatigue resistance to handle a much higher number of pressure and temperature cycles than fully welded alternatives. The end result is the safest, most reliable, and most energy-efficient technology available for heat pump and cold storage duties.
The latest addition to the high-performing family is Alfa Laval Industrial semi-welded T10-EW, taking pressure- and temperature resistance to a whole new level.
Customer success
Refrigeration experts from Bort de Graaf have turned to Alfa Laval's semi-welded technology
Learn why refrigeration experts Bort de Graaf have chosen Alfa Laval semi-welded technology for their CO2 cascade systems.
It's responsible cooling
CO2, with its impressive potential for heat recovery and thus for saving energy, and a Global Warming Potential of 1, is a truly responsible refrigerant. Alfa Laval helps you make the switch to greener systems by supplying dedicated components for transcritical CO2 systems and cascade systems .
The heat transfer area of a gasketed plate-and-frame heat exchanger consists of a series of corrugated plates, assembled between the frame and pressure plates, which retain the design pressure. For the highest thermal performance and to enable a very close temperature approach, fluids normally run counter-currently through the heat exchanger.
The sealing between the plates on the Industrial semi-welded line alternates between laser welds and gaskets. The laser welded channel allows use of fluids that are not compatible with normal gaskets and also allows for higher design pressure than fully gasketed plate-and-frame heat exchangers. Additionally, the Alfa Laval RefTight™ sealing system guarantees equal sealing force over the entire porthole gasket.
Industrial semi-welded line is available with various pressing depths and angles of the chevron pattern and various shapes of the corrugation which are carefully designed and selected to achieve optimal performance. The CurveFlow™ and the chocolate pattern distribution area are two design features available that ensure fluids are evenly distributed across the entire plate. The result is that the entire heat transfer surface is fully utilized and stagnant zones that can result in fouling are avoided.
High flow turbulence between plates results in higher heat transfer; however, the consequence is pressure drop. Our thermal design engineers will help you design and select the model and configuration that is suitable for your application needs while delivering maximum thermal performance and minimizing pressure drop.
Download application brochure
Discover the advantages of semi-welded heat exchangers for refrigeration duties
Questions about semi-welded plate heat exchangers
When shall I use a brazed, fusion-bonded or semi-welded plate heat exchanger in a refrigeration application?
A SWPHE is preferably used with high capacity duty, when the heat exchanger needs to be easily opened for maintenance (for instance in cases with dirty cooling water) or when using corrosive medias like saltwater or chloride brines requiring use of titanium or other corrosion resistant material.


Fusion-bonded plate heat exchanger is the best choice for any small or intermediate size duty requiring a copper free heat exchanger, for instance any ammonia application.
Brazed plate heat exchanger offers a tailor-made performance in any small or intermediate size refrigeration application where copper and stainless-steel components can be used, with design pressures up to 140 bar.

What is the minimum temperature difference you can have between the brine/water side and the evaporation temperature in a SWPHE flooded evaporator?
We normally say that an approach could be minimum 2K, if the liquid separator is mounted above the unit. Then the liquid column will be more or less optimal (c/c + 0.5 m) and the pressure losses be reasonable. A good oil separation system will also improve the possibilities to achieve a close approach. Please ask your Alfa Laval representative for an advice if you are in doubt.

What is the largest temperature difference I can have between the inlet and outlet brine/water in a SWPHE evaporator?
To give a general answer we normally say 15K. The reason is that if we have a higher Δt we will have a low pressure drop in the channels. That means a lower turbulence in the channels which will reduce the heat transfer efficiency and make the self-cleaning effect lower. A clean heat transfer area is always important for the performance.
Using a multi-pass heat exchanger will increase the heat transfer length of the SWPHE and allow for a higher temperature difference.

Can I use any type of media in a SWPHE?
No, you should always ask the Alfa Laval representative if you are going to use an unknown fluid. That can e.g. be a brine type on the brine/water side or a compressor oil on the refrigerant side. If you are in doubt your Alfa Laval representative will be able to advice both in metal and in gasket material selection.
A SWPHE allows for use of a wide range of heat transfer plate material such as titanium and SMO (ALLOY254) enabling use of corrosive material such as sea water or chloride-based brines.

What level of design pressure shall I select for a SWPHE?
First, you must check what your locally used pressure vessel code is saying. We generally say that the minimum design pressure should be the operating pressure times 1.3. If you use this factor you can assure the high-pressure safety switch-off device will work properly. It is then allowed to have some small pressure variations in the refrigeration system without a lot of false alarms and unwanted shut offs. Alfa Laval offers SWPHE with design pressures up to 63 bar (900 psi).

Why is the refrigerant side pressure drop so important in a SWPHE thermosiphon evaporator?
As the system is only using the natural laws, with help from the gravity, the density and the height of a liquid column, every pressure drop will affect the performance. An increased pressure drop can always be converted to a higher compressor load and therefore a higher need of input power. It will always cost more to be imprudent with the pressure drop on the refrigeration side compared to the water side. The energy needed in the compressor motor is always much higher compared to the need in the circulating pump motor.
Why is it important to drain oil in a refrigeration system with a SWPHE evaporator?
Compressor oil contamination is common in refrigeration systems. In industrial ammonia refrigeration, using non soluble oil, it is expected that this oil will gather in the coldest place in the system; the evaporator. In the evaporator the oil will build up a film on the heat transfer surfaces, effectively creating a fouling which reduces the evaporator performance.
In order to reduce the oil fouling, Alfa Laval recommends any user of a non-soluble oil to install an efficient oil separation before the refrigerant enters the evaporator.

How often do I need to change the gaskets in a SWPHE?
The time between service of any gasket plate heat exchanger or SWPHE is dependent on the duty. A unit running with sea or river water might need cleaning of the heat transfer surface more often than a heat exchanger running with a closed loop brine circuit.
For a normal closed loop glycol circuit evaporator or a CO2/ammonia cascade condenser normal time between gasket changes will be 15 years or more. Please contact your local Alfa Laval representative for advice.

Why is the heat transfer area so small in a SWPHE compare to a shell-and-plate or shell-and-tube type of heat exchanger?
The plates of a SWPHE are designed to always maintain a turbulence flow in the channels.
The turbulent flow secures a very high efficient heat transfer which drastically reduces the amount of heat transfer area needed compared to other technologies.
Alfa Laval SWPHEs are optimized for use in refrigeration applications and use flow equalization, for instance CurveFlow™, to make sure that all the heat transfer surface is used which results in high efficiency operations also in part load.

Which gasket type shall I use in a SWPHE for a refrigeration application?
The gasket type to use will depend on the media/refrigerants used and the operating temperature. It is also common that the refrigerant contains traces of compressor oil in which case the gasket material also must be compatible with this media.

In an industrial refrigeration application, it is common to use NBRLT (Low temperature nitrile) material for low temperature applications. For intermediate temperature CR (Chloroprene) is used for the ring gasket in combination with NBR (Nitrile) field gasket while HNBR (High temperature Nitrile) and FEPMAL is used for ring gaskets in condensers and high temperature applications.
Got more questions? Contact our local Refrigeration heat exchanger specialists for details.
Live chat with our heat exchanger experts
Looking for the right heat exchanger can be a complex task. Live chat with our local engineers to get expert advice on the best technology for your applications, as well as sizing and pricing information. Simply click on the blue chat icon at the bottom right corner of the page to contact our agents. Available Monday to Friday. We look forward to hearing from you!