Welcome to our Net zero launch event #5!
Once again, we have gathered an incredible line-up of speakers to present our solutions to some of the biggest climate challenges of our time. Find out about six new initiatives, all targeted towards accelerating more sustainable solutions. This online broadcast is free to join.
Duration: 45 minutes

Date: November 15th
Time: 14:00 PM (CET)
Programme
Opening
Thomas Møller, President Energy Division, Alfa Laval

Energy efficiency
The ALF filter – The compact self-cleaning filter for gasketed heat exchangers

ALF is not like other filters. It is a compact self-cleaning filter, characterized by its effectiveness, fully automatic operation, and low maintenance. Of course, with increased energy efficiency and maximized production uptime, you will also be rewarded with reduced CO2 emissions and OPEX savings.

Service solutions – Making efficiency last for decades ​

By regular and proactive maintenance of your heat exchanger performance is preserved and operations are kept trouble-free and predictable. Find out how Alfa Laval's comprehensive gasket plate heat exchanger service offerings can help boost your energy efficiency.

Packinox in HDS – Maximizing energy recovery

Replacing existing shell-and-tube heat exchanger systems with a single Alfa Laval Packinox improves energy recovery dramatically. This translates into fuel gas savings ranging from 80 to 100%, along with corresponding reductions in CO2 emissions. Thanks to an innovative plate cleaning system, Packinox can be used in both high-temperature and low-temperature processes, paving the way for massive energy savings irrespective of process type. Considering there are approximately 600 refineries globally, Packinox technology could potentially cut CO2 emissions by 10,000,000 tonnes annually — comparable to the emissions produced by 2 million trucks.
Clean energy
Carbon Capture Utilization and Storage (CCUS)​​​​​​​

Carbon Capture, Utilization, and Storage (CCUS) is an essential piece of the puzzle to decarbonization and vital for our journey towards net zero. Alfa Laval provides a broad portfolio of energy efficient heat transfer technologies that have the potential to reduce energy consumption of the CCUS process by 40%. These innovative technologies encompass both the tried-and-true methods as well as the pioneering solutions of tomorrow. For this discussion, we have invited an expert from Sulzer Chemtech to join us in the studio.
Circularity
Clean technologies for a circular tomorrow

We talk a lot about decarbonization when it comes to reaching net zero, but in many applications carbon is an essential molecule. That's where defossilization comes in. Alfa Laval has decades of experience in separation technology and is the perfect partner to support the shift to renewable carbon.
Downstream separation in renewable polymers

Renewable feedstocks like recycled material, biomass, captured carbon, and organic waste oil will be essential in defossilizing the plastic industry. But to guarantee their success, downstream separation is a key step in the process. With the support Alfa Laval technology, plastic producers can minimize product losses, obtain high product quality, and reduce water and energy usage.
Summary and closing
Thomas Møller, President Energy Division, Alfa Laval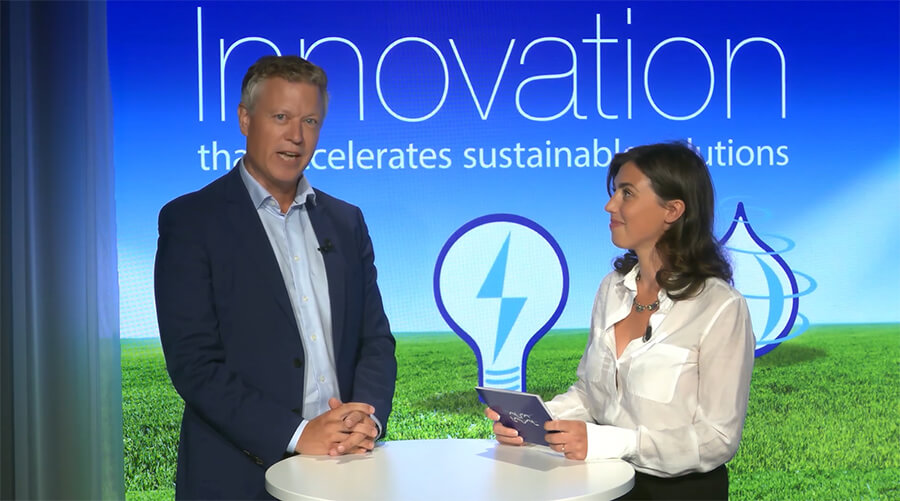 Previous Net-zero launch events
Accelerating sustainable solutions
Together with our customers and our partners, Alfa Laval is accelerating the transition to more efficient, cleaner energy solutions and moving the circular economy forward. Our deep industry knowledges enables us to optimize customer processes, overcome the toughest challenges, and continue making the world better every single day.
Meet our experts in the studio
Thomas Møller
President Energy Division, Alfa Laval

After finishing his Chemical Engineering degree at the Technology University of Denmark, Thomas joined an American company for 5 years. He worked with sales and the business development of separation technologies before joining Alfa Laval in 2002, where he has had several positions in sales, business development, strategy development, and execution.




Dr. José-Francisco Pérez-Calvo
Application Engineer Process Plants, Sulzer Chemtech

Francisco joined Sulzer Chemtech in 2021 as an Application Engineer at the Application and Process Technology department. Here, he is responsible for the design of carbon capture plants. Before joining Sulzer, Francisco completed his doctoral studies at the ETH Zurich on the development of absorption-based CO2 capture technologies for their application to industrial point sources.



Evgeny Rossiyskov
Vice President, Gasketed Plate Heat Exchangers, Alfa Laval

Evgeny has more than 20 years of experience within the energy sector and has worked in several leading positions at Alfa Laval. He is a committed Energy Hunter who strives to leverage innovative energy solutions and make industries more efficient.




Eva Andersson
Senior refinery process specialist, Alfa Laval

Eva has been working in Alfa Laval's refinery team for 18 years and is now a well-known profile in the industry. In 2007 she published a technical article highlighting the opportunities for lower energy consumption in the refinery industry. Since then, Eva has been helping numerous refineries around the world cut their scope 1 CO2 emissions by increasing efficiency with Alfa Laval's heat exchanger solutions.


Osama Zaalouk
Business Development Manager CCUS, Alfa Laval

Osama is a mechanical engineer and has had various roles in the renewable energy business. He has worked in the Middle East and Europe as a program manager, a technical consultant, and, most recently, supporting commercialization activities in business development and sales. His background is in energy systems, focusing on solar technologies and energy storage.



Karin Forsberg
President Energy Separation, Alfa Laval

Karin's passion for the role of smart technology in creating sustainable solutions has led her to work in a range of positions at large organizations and small entrepreneurial businesses. Whatever the subject, Karin is driven by the people around her to work together and make technology work smoothly in practice.